Lecture DEI Series
Date: 6/09/2018
Time: 13h00
Room: I -105
Speaker: Paolo Bellavista 
Affiliation: University of Bologna
Abstract:
Paolo Bellavista leads a research group at the University of Bologna, called Mobile Middleware, working on different areas of middleware/software infrastructures for mobile computing, spanning from mobile cloud computing, to quality support in wireless sensor and actuator networks, from mobile crowd sensing, to optimized migration in edge computing, in several application areas including Industry 4.0 and people-centric sensing.
The talk will provide an overview of some primary research activities currently ongoing on the fields of
i) multi-access edge computing (handoff-driven session migration and distributed file system support),
ii) edge computing for Industry 4.0 (optimization of latency/reliability by splitting control functionson cloud and edge, also for digital twin purposes), and
iii) mobile crowd sensing (geo-optimized online stream processing and profile-based task assignment).
Short bio: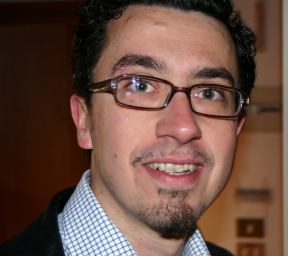 Paolo Bellavista is professor of distributed and mobile systems at the CSE of the University of Bologna.
His primary research interests and areas relate to middleware for mobile computing, Internet-of-Things platforms, efficient integrations of sensors-edge-cloud, edge/fog computing, mobile pervasive applications for Industry 4.0 and smart cities/communities.
In addition to national/EU project participation and publication activities, among the notable services for his community, he is Editor-in-Chief of the MDPI Computers Journal (2017-) and member of the Editorial Boards of IEEE Transactions on Computers (2011-2015), IEEE Transactions on Network and Service Management (2011-), IEEE Transactions on Services Computing (2008-2017), IEEE Communications Magazine (2003-2011), Elsevier Pervasive and Mobile Computing Journal (2010-), Elsevier Journal on Network and Computing Applications (2015-), Springer Journal of Network and Systems Management (2008-), and MDPI Sensors Journal (2017-).
For his full cv, please refer to https://www.unibo.it/sitoweb/paolo.bellavista/cv-en
Bookings
Bookings are closed for this event.